The giloy plant is a miracle of nature, and its juice is one of the most critical parts of Ayurveda. Used for thousands of years to treat many ailments, giloy is finally getting the recognition it deserves—thanks in part to the rise of Ayurvedic medicine in the Western world. Medically, this is one of the most beneficial substances and is called "Amrita" in Ayurveda, which means "the root of eternal life". It contains a considerable amount of cell reinforcements, and thus it assists with forestalling many ailments.
If you're new to giloy, you might be wondering how to consume it. Luckily, giloy is easy to add to your diet in several different ways:
1) Giloy tablets:
These tablets can be swallowed as-is, similar to a vitamin. They should be taken with food or after a meal for best results.
2) Giloy capsules:
They are similar to giloy tablets and should also be taken with food or after a meal.
The juice is the most traditional way to consume giloy, and it's known for its strong taste. It can be mixed with honey or other sweeteners to make it easier to stomach.
Benefits of Giloy Juice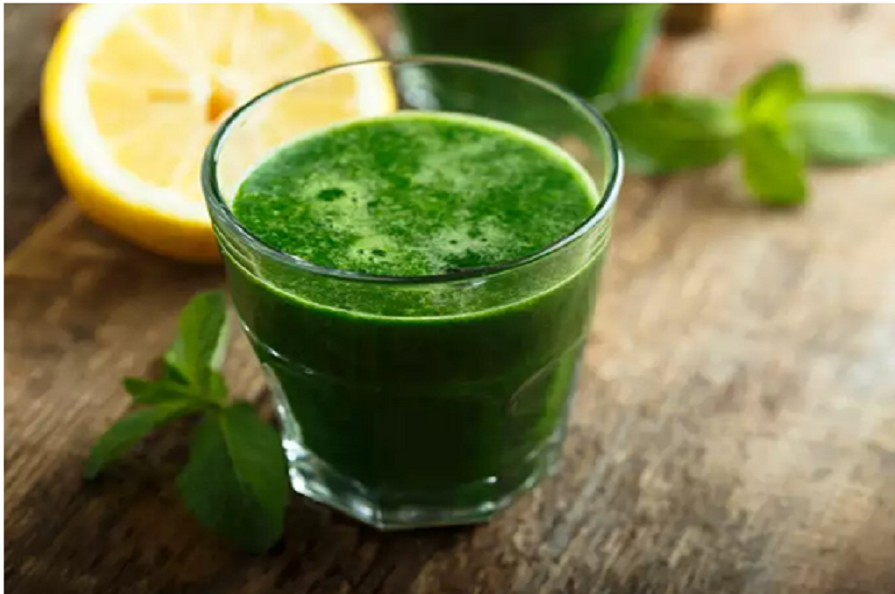 1. Giloy Juice helps boost Immunity
Giloy juice is the new immunity-boosting drink. It's great for those looking for a healthy drink loaded with antioxidants and vitamins.
Giloy juice has several scientifically proven benefits for immunity:
It is antibacterial and antifungal, which may help prevent bacterial infections from developing or becoming more serious.
It is an antioxidant and a free radical scavenger, which may help reduce inflammation in the body and protect cells from damage.
It activates T cells in the immune system, which helps them more effectively fight disease-causing pathogens like viruses or bacteria.
2. Giloy Juice gives a glowing skin
Giloy has antibacterial properties; antibacterial properties are essential for healthy skin because if your skin is not protected from bacteria, it can lead to breakouts.
Giloy has anti-aging properties. As we age, it's only normal for our bodies to lose collagen. Collagen keeps our skin supple and wrinkle-free, but we start to produce less and less collagen as we get older. Giloy helps us maintain the collagen we have so that our facial skin stays younger-looking longer.
Giloy has anti-inflammatory properties: If you have acne-prone skin or sensitive skin, you know how important it is to keep your skin irritations under control. Inflammation in the skin can lead to painful breakouts and cause redness in your face. Giloy is an anti-inflammatory herb that helps combat both of those things by reducing inflammation caused by acne.
3. Giloy Juice reduces stress and anxiety
Giloy is a plant with plenty of benefits. But one of the most common uses for this Ayurvedic herb is to treat and reduce stress, anxiety, and depression.
Because it's an adaptogen, giloy helps your body manage stress by altering how your body responds to physical or psychological stressors.
Giloy helps reduce anxiety and depression by affecting neurotransmitters in the brain, such as serotonin and dopamine. These neurotransmitters are hormones that play an essential role in mood regulation and improving feelings of well-being.
Giloy also helps relieve symptoms of stress in your body by lowering cortisol levels—a hormone released when your body experiences stress.
In addition, giloy can help you sleep better, which is another critical factor for managing stress and alleviating anxiety and depression.
4. Giloy Juice is good for diabetes
If you have diabetes or know someone who is, this is a great way to help treat their disease. Giloy helps lower your blood sugar level and increases your insulin sensitivity to control your blood sugar levels better.
Giloy contains several compounds that are believed to stabilize blood sugar levels.
The first of these compounds is berberine, which helps regulate glucose production in the liver. The second compound is Neosporin, which improves insulin sensitivity by increasing the activity of alpha-glucosidase enzymes and decreasing glucose absorption. These two compounds are thought to work together to stabilize blood sugar levels. Still, they must be present at sufficient concentrations within your body for them to do so effectively.
The third compound in Giloy is Neosporin A, which inhibits the enzyme that breaks down carbohydrates into glucose (alpha-amylase). This inhibition enables more carbohydrates from food ingested during meals to remain in your intestinal tract instead of being absorbed as glucose during digestion.
It also helps to prevent the complications of diabetes such as heart disease, kidney damage, and nerve damage caused by high blood sugar levels over time. This is because it reduces oxidative stress, which causes these complications in people with diabetes due to their inability to produce enough insulin in their bodies.
5. Giloy Juice improves digestion
It's one of the most effective ways to treat gastric issues, and this is because Giloy is a natural anti-inflammatory agent. It works to clean out your digestive system and strengthen the mucosal lining of your stomach.
When you eat giloy, you're getting a good dose of antioxidants. That means you're more likely to have fewer digestive problems and better overall digestion, making it easier for your body to absorb the nutrients it needs.
If you suffer from chronic constipation, giloy can help. It acts as a laxative and makes your bowel movements more regular. This helps ensure that your body can properly process food and eliminate waste products daily.
Giloy also helps with gas and bloating, so if you're experiencing those symptoms after eating certain foods or overindulging in meals, try eating some giloy every day for two weeks (or drinking giloy tea).
It also reduces inflammation in the stomach lining, which helps with diarrhea and other digestive disorders like irritable bowel syndrome (IBS). Diarrhea occurs when there's too much acid in your stomach or if your small intestine isn't absorbing nutrients properly.
6. Giloy Juice can cure different types of fever
Fevers are a common, temporary occurrence that can indicate various conditions. Giloy is a herb used to treat fevers and many other symptoms, and it may also have preventative health benefits. The following sections will address the benefits of giloy for different types of fever.
1. Benefits of Giloy for Dengue Fever
Dengue fever is a viral infection carried by mosquitoes, and it can be fatal if left untreated. Symptoms include high fever and body aches, and it can be treated with over-the-counter medications and self-care practices like resting and drinking fluids. While there is no scientific research on the use of giloy for dengue fever, it has been traditionally used in Ayurvedic medicine.
2. Benefits of Giloy for Typhoid Fever
Typhoid fever is a severe bacterial infection that requires antibiotic treatment. In some cases, however, treatment-resistant strains of bacteria are present, and natural remedies like giloy may help to alleviate symptoms and provide relief from high fever. At the same time, patients wait for antibiotics to take effect. Giloy may also help the body fight off the bacteria that cause typhoid fever by boosting the immune system.
7. Giloy Juice maintains healthy liver
Giloy helps in detoxifying the liver and cleansing it. It also recovers the liver's unhealthy cells and helps restore its functions. Giloy is a rich source of antioxidants, which help flush out the toxins and harmful chemicals that enter our bodies. This makes giloy an effective remedy for liver problems.
1. It helps in the detoxifying liver:
The liver is responsible for producing bile, which helps absorb fat and cholesterol. It also detoxifies the body and breaks down harmful chemicals. Giloy helps flush out toxins from the liver, thus keeping it healthy.
2. It helps treat jaundice:
Jaundice is a condition characterised by yellowing skin and eyes due to the accumulation of bilirubin in the blood. Giloy contains antioxidants that help remove free radicals from the body and reduce inflammation, thereby reducing symptoms of jaundice.
3. It helps treat hepatitis:
Hepatitis is an inflammation of the liver due to infection or exposure to certain drugs or chemicals. Giloy contains hepatoprotective properties that help protect against damage caused by hepatitis and improve liver function.
4. It prevents fat accumulation in the liver:
Fatty liver disease refers to a buildup of fat on the organ, causing inflammation and scarring. Giloy contains anti-inflammatory properties that prevent fat accumulation in the liver and reduce oxidative stress, thus improving fatty liver disease.
As you can see, giloy holds several benefits due to the different active ingredients found within it. So as you can see, giloy is an excellent addition to your diet. If you're looking for some incredible health benefits, then giloy is something you should consider.
Indulge your body with a glass of giloy today!